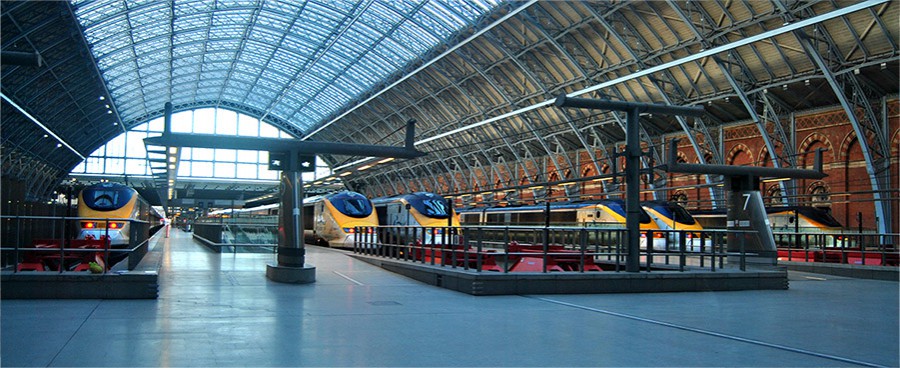 All information in this article assumes you are travelling from Britain. Even still, there may be some information of interest to travellers moving within Belgium.
There are several choices of travel when planning a trip to Belgium – here is an overview. Prices do fluctuate so take them as a guide for comparison. Prices in this article are based on Spring 2015 pricing.
Aeroplane
Cost for a couple: from €84 return
Cost for a family of 4: from €160 return
Time: 1.5 hours from UK to Brussels
Advantages: quick, simple and cheap. Cheapest option for a couple.
Disadvantages: limited luggage if you want to return with some Belgian "refreshments".
For such a small country, Belgium has a surprisingly high number of public airports. The airports that serve flights to and from the UK are Brussels and Antwerp (London airports only). Unsurprisingly Brussels is the most used airport- with flights to/from Manchester, London, Nottingham, Edinburgh, Glasgow, Leeds, Newcastle, Birmingham and Norwich. Prices are low: during my quick search a flight from Manchester to Brussels on a random date in the middle of the summer holiday 2015 cost €21 one way. The flight takes around 1.5 hours.
Brussels -or Bruxelles airport is a huge international airport, accommodating nearly 22,000 passengers in 2014. Once landed, passengers can easily rent a car, take a bus to the local vicinity (terminal located just below the arrivals hall), catch a train to the wider area (station located below the terminal in the basement). There are also taxis readily available- a taxi into Brussels city centre will set you back about €45 and most local hotels run a free shuttle service.

Using buses around Brussels
The buses can be found in Brussels airport using the escalator from the arrivals hall down to level 0. Buses run into Brussels, which will take about an hour and require a change, as well as local towns (€2 for one trip onboard- tickets for one day or for several trips also available). There are also express services to the European Quarter of Brussels which takes 30 minutes (€6 onboard) as well as to Antwerp (€10).
You don't need to buy a ticket in advance to get on these buses- just get on the front and pay the driver. Most have a "working knowledge" of English. It is useful to note that most bus services are slightly cheaper if paid for before you board by using a machine on the platform. Buses can get very busy but are very easy to use once you are on- there is usually a small monitor visible which shows you the name of the upcoming stop and changes you can make there. The same goes for trams.
Tickets usually take the form of a plastic chip card which you hold up against a red machine to validate it. Sounds a bit confusing but you'll see a lot of people doing this so you just copy their lead.
Using trains within Belgium
For travellers arriving in Brussels and wishing to go further afield, the train system is a great way to get about. The Bruxelles-Nat-Aeroport train station runs 6 trains an hour into Brussels North, Brussels Central and Brussels Midi which take under 20 minutes. There are also services direct from the Airport to:
Bruges – 90 minutes – approx €15 per person
Ghent – 55 minutes –  €9
Leuven – 15 minutes –  €5
Antwerp -35 minutes –  €7
And these are to just name a few well known places. There are further towns and cities to explore which require changes, such as Ypres (2 hours 30 mins, change at Kortrijk, €25) Liege (1 hour, change in Leuven, €30) etc.
Tickets are available on the internet, from machines and booths at the stations or onboard the trains themselves. Buying your ticket onboard now automatically costs  €7 on top of the normal price so beware! There are several family-orientated schemes: free and reduced price tickets for children and people with certain disabilities plus their carers, as well as first class upgrades for pregnant women. Interestingly, there are also reduced prices for journalists, jobseekers, the military, military veterans and widows and police officers in uniform. The rail system really supports patriotism!
City train stations are usually pretty central and well connected to the local area with buses. A lot of staff speak good English and there are always lots of clear signposts telling you where to go for everything.

Eurotunnel – driving
Cost for a couple: from €150 per vehicle return, plus petrol
Cost for a family of 4: from €150 per vehicle return, plus petrol
Time: 30 minutes onboard, 1 hour+ drive from Calais
Advantages: only luggage limit is the size of your boot! Take advantage and stock up on beer! Flat rate no matter how many passengers. Freedom and convenience of having a car is always a bonus.
Disadvantages: Slower than other methods (although not the slowest).
Our favourite way to get to Belgium is driving our way down to the Eurotunnel in Folkestone then making our way on to our destination. Advance tickets in the summer cost from €75 each way for a short stay (5 days or less) and from €100 each way for longer trips. There are often special offers so keep a look out, and if you're a Tesco clubcard user save those vouchers up for big discounts!
The drive from the Eurotunnel terminal in Calais to Belgium is easy: you get on the E40 towards Dunkirk and Ostend and just keep going for an hour. French and Belgian motorways are pleasant enough to use, with regular roadside picnic spots and services.
You can get to any city or town in Belgium by car, obviously, but here is a quick guide of times and distances from Calais:
Bruges – 1 hour 30 – 70 miles – follow E40 to exit 7A for Brugge.
Ghent – 1 hours 45 – 90 miles – follow E40 to exit 13 for Gent.
Brussels – 2 hours – 125 miles – follow E40 past exit 20 and into Brussel.
Antwerp – 2 hours 25 – 130 miles – follow E40 past exit 14 to E17. Take exit 5a from E17 to Antwerpen-Centrum.
Ypres – 1 hour – 60 miles – follow E40 to exit 57 (still in France) to E42. Take exit 14 to D948.
Liege – 3 hours – 190 miles – follow E40 for 180 miles.
Eurostar – passenger
Cost for a couple: from €144 return.
Cost for a family of 4:  from €330 return.
Time: 3 hours
Advantages: Can move around freely during the journey. Probably most convenient. Children under 4 free if they sit on parent's lap.
Disadvantages: Journey time and price will be higher if travelling further afield (details given for London to Brussels), limited luggage. One of the slowest options.
I used the Eurostar as a walk-on passenger when I was 16, travelling without an adult from London to the south of France with no trouble and I thought it was great. I haven't used it since but can't imagine it to have got any less convenient so
Ferry
Cost for a couple: from €105 per vehicle return, plus petrol
Cost for a family of 4: from €105 per vehicle return, plus petrol
Time: 1 hour 30 minutes onboard, 1 hour+ drive from Calais
Advantages: Cheapest option for a family of 4 (not taking into consideration petrol costs). Flat price no matter how many passengers. Unlimited luggage.
Disadvantages: Probably the slowest option. Can be weather-dependent.
The first time we went to Belgium I insisted on using the ferry instead of the Eurotunnel for the nostalgia (summer holidays in the south of France with my parents). What a mistake! It was New Year, the weather was horrendous, there were delays, and let's say it wasn't the smoothest of crossings. If you're crossing during the summer, you've got to consider it because of the price. During the winter, personally, I'd stick to the tunnel.