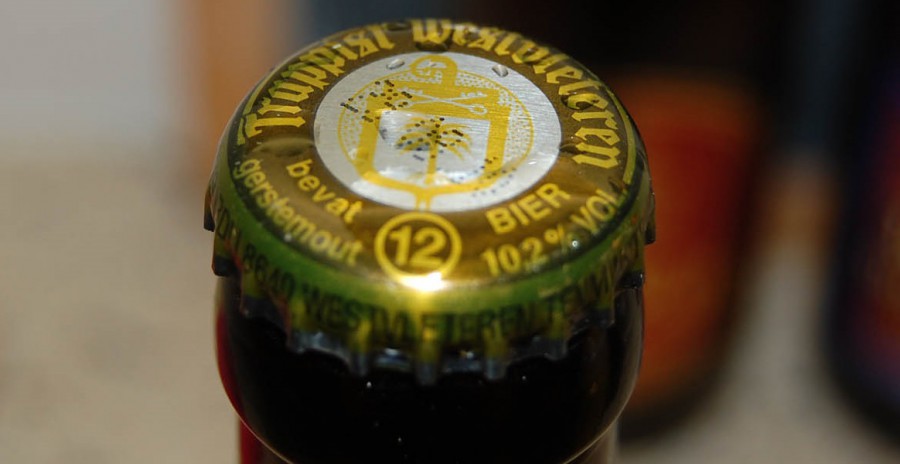 The Sint Sixtus Abbey in Vleteren was founded in 1838 is one of the eleven Trappist breweries worldwide, and one of the six located in Belgium. Brewing only 3 different beers, it has a worldwide reputation for taste and quality. In particular, we were seeking out the Westvleteren 12: supposed to be one of the best beers in the world.
The abbey produces one of the lowest volumes of beer at under 5,000 US gallons. This is because the beer is not brewed for financial gain, but purely to keep the Abbey going. Therefore only a small amount is brewed, just enough to make ends meet. This is then sold directly from the Abbey to individuals who have reserved their beer weeks in advance. A small amount is also available from the gift shop in the form of boxed sets including glasses- although there is no guarantee of which beer, or how much, will be available.
As well as the Westvleteren 12 (or "Westie 12" to those of us who try, but fail, to pronounce the whole word correctly) at 10.5% with a yellow cap, the Sint Sixtus Abbey also makes the Westvleteren 8 at 8% with a blue cap and Westvleteren Blonde at 5.8% with a green cap. Bottles come unlabelled, the only indication of the brewery other than the cap being the word Westvleteren embossed in glass around the neck of the bottle. All legally required information is printed on the caps, although some US importers will add a label to comply with local regulations.
We decided to seek out the brewery as a bit of an adventure. We were hoping to get our hands on the legendary Westie 12. As it was around Christmas there was no convenient date for us to book and pick a crate up through the regular procedure, so we had to take our chances on In de Vrede: the on-site café and gift shop.
To get to In de Verde you have to follow a series of local country roads. We found the signage to be fine but others have said there isn't enough. We did have the GPS on too so maybe we'd have found it harder if we had been relying on maps and signs. It was a pleasant enough journey: we were on our way from the Eurotunnel to Ghent and it was vaguely on the way with a bit of a diversion. From the Eurotunnel it took about an hour to get there along the A16 through France into Belgium, then exiting the E40 at J1a onto the N8 until you reach Vleteren, then following signs for Sint-Sixtusabdij along local streets until you find the Abbey.
In de Verde is not what you expect from a monastery. It is large and modern, with a clean, open-plan, cafeteria style layout. The small gift shop in the corner has an un-reliably stocked selection of beer gift sets, as well as other products of the Abbey such as cheeses and pates. We were lucky enough to get our hands on 4 Westie 12 giftboxes- as there were only 2 of us we didn't fancy carrying more- although there were others who were unashamedly packing their cars full of as many boxes as they could get their hands on. We stopped for a beer (Carl was driving so he could only have a blonde: I had an 8) and a sandwich for lunch, all of which was really good. It's worth noting that even when there are no boxes available in the giftshop, the café usually has all 3 beers in stock. Full and (me at least!) feeling a little tipsy, we left after around an hour, clutching our prizes giftboxes and grinning like two Cheshire cats.
All round I'd say the trip was well worth the detour which added about 40 minutes on to our total driving time. One day we'd like to have a go at ordering a crate to bring home but fate just meant that wasn't the time for us to do so.