Bruges really is a magical city at Christmas, and nothing adds to the festive atmosphere quite as much as the Christmas market, which is finally here for the year! The idyllic festive treat opens each year in the last weekend of November: this year it fell on Friday 20th November and promises to be just as beautiful, cheerful and funfilled as previous years. It will close on Saturday 2nd January 2016.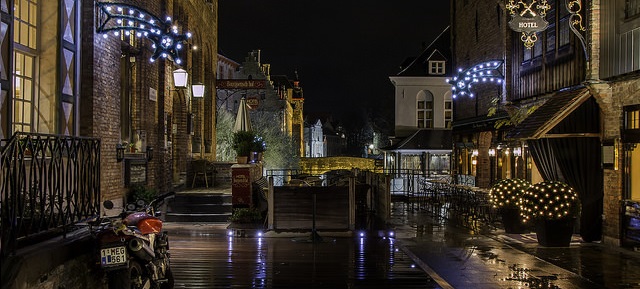 The Bruges Christmas Market is now an annual tradition of the city, held every year both in the Grote Markt (or Great Market) and Simon Stevinplein. It is accompanied by a beautiful outdoor Ice Rink which surrounds the central statue of Jan Breydel and Pieter de Coninck under the Belfry in the Grote Markt. Twinkling fairy lights, cobbled streets and the smell of freshly baked waffles add to the cheerful warm feeling you can't help but get from wandering Bruges at Christmas.
The market stalls open daily from 10.30am until 10pm (11pm on Fridays and Saturdays). The Swiss-style chalets which pop up all over the city sell food, drinks (try the Gluhwein met Amaretto!), gifts and decorations.
Still running from the Grote Markt are the traditional horse drawn carriages which, although running throughout the year, somehow seem even more appropriate for cosying up under the supplied blankets during the winter. A half hour ride- which can take up to five people- costs €44 in 2015 (seems to go up by a couple of Euros each year) and includes either a commentated or quiet tour around the cobbled streets with a five minute break by Minnewater Park to give the horses a rest. A money saving tip if you're in a couple and don't mind sharing is to wait around the queue until you spot a likeminded small group and ask to share your ride (and therefore fare!)… €22 per person suddenly becomes a more reasonable €9-11. It's also nice to remember that in Bruges the welfare of the horses is seen as really important, and apparently they are only allowed to work 2 days per week, can only do the route 20 times per day and MUST have their break in the middle of the route.
Another Yuletide tradition of Bruges is the Ice Sculpture festival, which I've written an article about here. This year's theme is Wanagogo.