In December-January we travelled over to Bruges to celebrate my 30th birthday when I was heavily pregnant (I was exactly 30 weeks on my 30th birthday!). I looked all over the web for tips for pregnant women but couldn't find anything at all… maybe it's too much of a niche subject, but I would have found some information useful so here's my experience, tips and advice… Obviously my article focusses on travelling to Bruges and Winter time, but most of it would apply to all of Belgium all year round.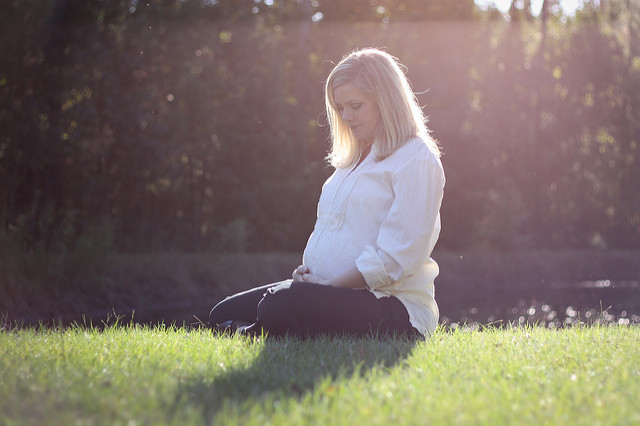 Luggage
What to pack when pregnant? Pretty much the same stuff, just be a bit more thoughtful when you're planning. Comfy shoes are vital. Forget your stilettos, no one wears them around the cobbled streets of medieval Belgium anyway. Layers are useful too, as you never know when you might suddenly start sweating or feel incredibly chilly. Bring at least one comfy but pretty outfit or dress too, it's too easy to just write yourself off as a lump when you're pregnant and not bother much with your appearance… you deserve to look and feel attractive! I wore a ridiculously overly dressy dress for lunch on my birthday. I even shed some tears while deciding whether to wear it. Then I thought, stuff 'em, it's my birthday, I'm pregnant and I want to feel like I'm having some sort of a party. So I wore it, while everyone else was in jeans, and I loved it.
Don't forget to tuck your maternity notes in with your luggage somewhere. Its highly unlikely you'd need them, but if something were to happen when you'd need medical attention it's better to be safe than sorry.
Travelling
I've already written about how to get to Belgium here, but when pregnant there are a few extra things to consider. Most importantly… the toilet! Things to consider:
The amount of waiting around you have to do, and whether there is comfortable seating
Accessibilty, reliability and cleanliness of toilets
The policies of the company you book with (most airlines and ferries say no later than 36 weeks, train-based transport have no restrictions)
Possible motion sickness, especially seasickness
Eating
Most typical Belgian food is fine to eat while pregnant, just remember to get your steaks well done (boo hoo!). Its useful to remember that the European "well done" is often less cooked than the British version, so stress that you want it cooked through. Beer- especially the strong Belgian beers- is obviously off limits. Cheeses and cured meats are popular offerings, especially at the breakfast table. Most restaurants in touristy places have good English menus so you can see exactly what you're ordering, and if you're not sure the staff usually have a good enough grasp of English to talk you through the ingredients.
Things to do
This was something that really worried me about visiting Bruges while pregnant- what was I going to do?! A typical break for us involves wandering aimlessly for hours, stopping for regular beers and occasionally going up a tower, round a brewery or on a boat trip. None of this particularly appealed to me as a preggo and with my racing hormones in the run up to our trip it really did stress me out quite a bit.
When we were there I actually had a really good time and got to see a different side of Belgium than I'm used to. Bars were replaced by tea rooms. I found a lovely easy viewpoint of the Markt while everyone else climbed the Belfry. Things in Bruges that I found were definitely off-limits:
The Belfry- too many narrow steep steps. I'd done if before so didn't mind too much. I went for a drink in the Duvel Bar above the Historium and people watched while the rest of my group went up.
The Halve Maan brewery tour- not only is it beer-focussed, but there are also a lot of steep steps. I went for a mooch in the local tourist shops, picking up a really cute baby vest and some chocolate! Then I waited for the rest of the group in the restaurant, where we'd booked a table for lunch.
Alcohol and late nights! Loving my Belgian beer this was a tough one, but I developed a pretty strong taste for sparkling water. And when I was too tired to stay up late at night I'd retire to bed then get up earlier in the morning. I got to see a whole different side of Bruges- the quiet, peaceful time before all the tourists descend. As it was New Year it was quite eerie walking around the Christmas market before any of the stalls were open.
"Free" tours. This is something I always wanted to take but never seem to have in Bruges. I researched them, thinking I might be able to tag along to one, but they're typically a good two hour long walk and for me I just thought that was a bit too long to be standing.
I still managed to fill the days somehow. Here are some of the things I could do:
Waffle tasting!
Museums. We discovered the new Torture Museum which, although small, was cheap, interesting, unusual and quirky.
Churches. Belgium has some gorgeous churches. We didn't actually visit any as we'd seen most of them before, but it was something I could have done if we hadn't.
Wandering the streets. Still fine, I just had to make sure I had some comfy shoes on. We walked slowly and took regular breaks. There are plenty of benches in Bruges. I became very familiar with a lot of them.
Shopping/mooching. I'm usually one to avoid most of the touristy shops in these sort of cities, and ALWAYS avoid the High Street shopping (I never really understand people who go to a foreign city and then go into the local branch of, say, New Look. Why would you go abroad just to go shopping for clothes you can get at home?). But being pregnant and officially slow moving, there were times when I quite enjoyed just following the slow moving crowd and staring at the pretty window displays.
The park. Nice and quiet, peaceful. Particularly special to us as Minnewater Park is where we got engaged. But always a lovely place to visit regardless.
One late night- I managed to stay up well past 12 on New Year's Eve, though I was a bit grumpy standing outside a crowded bar while my co-travellers drank (they were standing outside too, I hadn't just been abandoned or tied up like a pet dog!) Once the karaoke on t'Zand started up I had a fab night. It's so family friendly it doesn't really matter whether you're drinking or not, you can still have a dance and a good time. We stayed towards the edge of the crowd so I didn't get squished! And I had a glass of cheap fizz from the supermarket.
Any more ideas, suggestions or questions you have let me know and I'll do my best to answer them!