There are lots of things to do in Bruges throughout the year- here are a selection of things unique to the summer season that are waiting for you to try!
Cactus Festival
Outdoor music

On the second weekend of July, Minnewaterpark is taken over by a variety of international music groups for three days of live music from a mix of genres. Past acts have included Mogwai, Kate Bush and KT Tunstall as well as local performers. Tickets in 2015 cost 55 euros for one day, with an extra 13 euros if you want to camp at a venue just over a mile away with buses running between the campsite and festival. As the venue is fairly small for a festival, there is only one stage- meaning no overlaps! But at the same time if you don't like what's on stage there are stalls, food as well as local acts playing just for the honour of getting their music out there.
More information (you'll need to google translate!) can be found on http://cactusfestival.be/
Assumption Day
Annual Religious Procession
15th August is a Bank Holiday in Belgium, celebrating the Catholic holiday Assumption Day: commemorating the Virgin Mary's assumption into heaven. In Bruges every year the Brugse Belofte procession (translated as Bruges' Promise). This has happened every year for over 700 years. The procession features actors portraying different religious scenes, and a special candle which is carried from Our Lady of Blindekenskapel at 9.30am through t'Zand,Vlamingstraat, Jan vanEyckplein to the Lady of Our Potterie Church, arriving there at 11am. There is then a church service before the procession returns back the same route.
MAfestival
Old style music
Short for the Musica Antiqua festival and part of the annual Festival of Flanders, the MAfestival is a celebration of ancient music which has been running for over 50 years. Each year the ten-day festival features attractions including both free and paid concerts, master classes, conferences, exhibitions and competitions.
For the last couple of years, a particular highlight of the MAfestival has been the Velo Baroque, which takes place on one Sunday (2015 date was 9th August, the concluding day of the festival).Velo Baroque is a 30 kilometer (18.5 miles) round-trip bike ride starting from Bruges and following a trail to Damme, Meetkerke and Zuienkerke through wetland and woodland to watch various muisc concerts at different venues along the way.
In 2015 the MAfestival runs from 31st July until 9th August, with annual dates being around the same time each year. The epicenter of the festival is t'Zand Concert Hall.
More information can be found at http://www.mafestival.be/EN/home and http://www.velobaroque.be/EN/Velobaroque
Triennial Bruges
Contemporary art
Triennial Bruges is a Contemporary Art and Architecture exhibition event, brought back to Bruges for the first time since 1974 in 2015, with aspirations to establish it as an annual event. The broad idea is that a concept is selected, and a variety of indoor and outdoor venues are taken over with different peoples' explorations of the concept.
In 2015 Triennial Bruges runs from 20th May until 18th October, with 3 indoor (set opening times) and 14 outdoor installations (open 24/7) and 40+ international artists, architects and scientists exploring the theme of Bruges as a "megacity". It asks the question what if the 5,000,000+ tourists who visit Brugges each year just decided to stay? More information can be found at http://www.triennalebrugge.be/en
Watch the world go by
Relaxing activity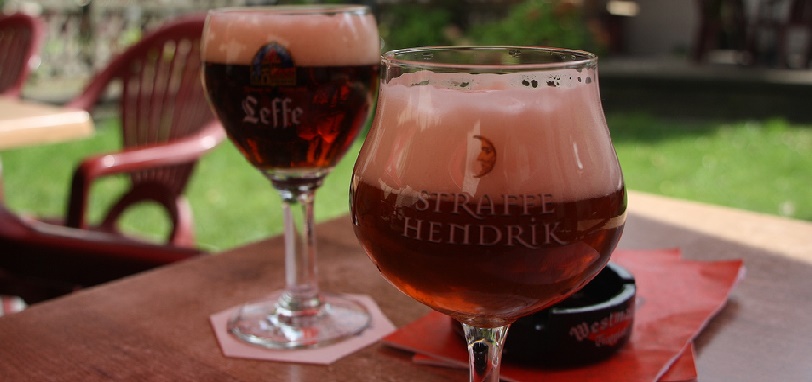 Find a nice bar, order a beer, sit back and watch the world go by. Bustling Bruges, with it's 5 million plus annual tourists, is the perfect place to relax and take in your beautiful surroundings. And the summer time is the perfect time of year to do this, when the weather's warm enough to sit outside- but not too hot to really relax as in other worldwide cities. With Belgium's perfect selection of homegrown beers too you can't find a better location. Order some "tapas" nibbles from the menu if you're feeling peckish: go local and enjoy some cheese with mustard. Just don't have one too many and peak too early, meaning your whole evening is wasted!
There are nice but typically expensive bars in all main squares in Bruges, but some of my favourites are in the smaller squares and streets such as treelined Simon Stevinplein and canalside Huidenvettersplein (Tanners' Square) where you'll find slightly cheaper prices.
Klinkende Kroegen
Bar/pub Music
Roughly translated as Sounding Bars, Klinkende Kroegen is a summer music schedule running every Wednesday throughout July and August. Each week a free live performance is arranged by a different band in a different bar between 8pm and midnight. Performances range from songwriters to cover artists, and every genre from Soul to House. The program is published on brugge.be, but the translate function of google may be required.
Moods
Free music events
A fairly young event, Moods is another celebration of music in Bruges started in 2014, centering around Burg square. In 2015, there is a free concert in Burg square every Friday and Saturday, and a paid concert (costing 13 euro for presale tickets) in Binnenplein Belfort from 24th July until 6th August.
More information including ticket sales for paid events can be found at http://www.moodsbrugge.be/2015/programma_en.asp
Brugge Belfort
Landmark
Although open year-round, the views of the Belfry have to be best with the clear skies and warm weather of the summer. Climb the 366 steep steps to the top at 83 meters and then BREATHE and take in the stunning panoramic view. It's not the worst climb I've done, but not the easiest either, and there are a few very narrow points. During summer months the queues will get very long, as only 70 people are allowed up at once, so go early or late in the day to avoid. When we visited the bells very suddenly started playing, making me jump out of my skin! 2015 prices are around 8 euros per person, but are you can get in free if you get a City Card or Museum pass.
More info at https://bezoekers.brugge.be/en/belfort-belfry
Damme
Cycle ride
Bicycle hire is a big business in Bruges, and one of the first things recommended to us the first time we went to Bruges by a regular tourist was cycling to Damme (I'll never forget him trying to talk to a local woman about it and loudly saying "you know, Dammmnnn- beautiful" in a typical British manner. The local woman had no idea what he was going on about and this lasted for a good few minutes until she finally got it and went "OOohhh, Dah-muh, yes beauuutifuulll little village". Pronunciation, we learnt, is everything).
Start off by making your way to and cycling the vesten- the lovely green outer ringroad which will probably take you past some windmills. This will take you to Dampoort. Follow the signs for traffic to Damme and you'll find a brilliant flat cyclepath along the canal which will take you straight to Damme. This road is around 4 miles long and on bike should take around 30 minutes to get there. Look out for the trees lining the road, all of which have been bent in exactly the same spot by the wind, then look out for the white Hoeke Windmill- the signal that you've arrived!
In Damme there are a few small attractions including the Our Lady of Damme church, the town hall or Stadhuis on Kerkstraat with 2 "stones of justice" hung on the wall outside- a punishment tied to the feet or neck of convicted women to carry around the village, and a few nice little bars and restaurants.
Once you've had lunch and a lovely wander through the pretty streets, take your time to cycle back along the same path back to Bruges.
There is also a boat which runs along the canal from Bruges to Damme in around the same time if you're feeling less energetic, but the cycle ride has to be the best way to get there! A day's bike hire costs around 10 euros for adults, whereas an adult's return boat trip costs 10,50 euros. Bicycles are even allowed on the boat so a happy compromise would be to buy a single ticket at 7,50 euros and then cycle back! This, of course, leads me on to what is widely regarded as the must-do tour of Bruges…
Bruges boat tour
Tour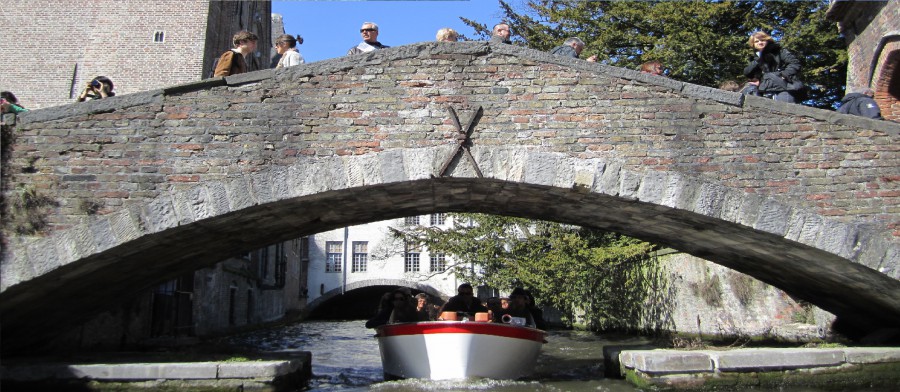 Boat tours in Bruges run from Spring until Autumn, so was something we didn't get to do on our first couple of visits until we finally went during the summer.
Four around 7 euros, you'll get a lovely relaxing boat cruise around the famous canals of Bruges- "the Venice of the North" (being a Brummie- the city claiming to have more canals than Venice, I actively seek canal trips on all holidays. Okay, that probably has nothing to do with me coming from Birmingham, I just like canals and rivers). The cruise includes a multi-lingual commentary from a live tour guide who points out all of the wonderful sights of the medieval city which can't be seen from any other means of transport, including the most photographed dog in the world, Fidel (don't google him, go on the tour and take your own photo!). Definitely worth the fee.
That's all of the summer-exclusive attractions of Bruges that I can think of. Let me know if you have heard of others or discover any of your own and I'll feature them in the article!