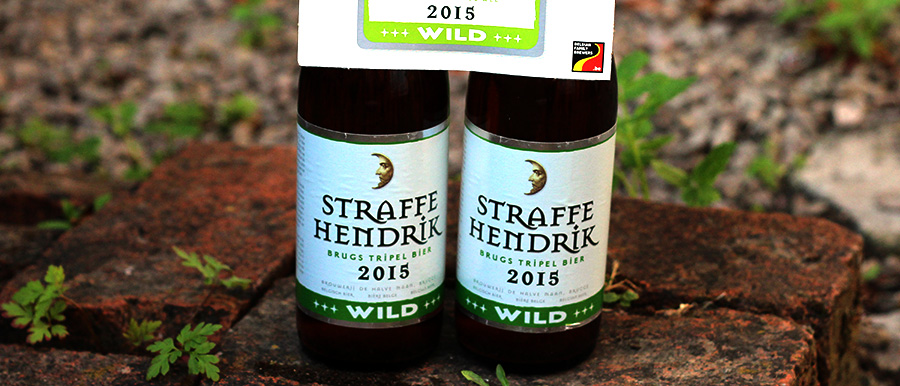 Today we'll be reviewing Straffe Hendrik Wild (2015 Edition) from the Haalve Maan Brewery over in Bruges. It's a derivative of the Straffe Hendrik Tripel, produced on a limited run, with these 'Wild' versions of the popular Tripel first being introduced in April of 2014.
Where does the 'Wild' tag come from?
I'll quote the Haalve Maan themselves on this….
The traditional tripel beer is re-fermented with a wild Brettanomyces yeast, that creates unusual fruity aromas in harmony with the rich use of aromatic hop varieties. The wild yeasts also provide a longer natural shelf life to the beer and taste developing over the years.
Sounds like it might be interesting to follow this review up after giving the beer a year to mature – we've put aside a couple of bottles.
Abv wise it weighs in at 9%, comes to us in 330ml bottles and has a recommended serving temperature of 6°C (43F). Shelf life is recommended to be no more than 5 years.
Carl's Review
First I'll talk about the bottle: The Straffe Hendrik range has a fantastic clean modern design – they looks classy, especially the quad, and the Wild is no exception. The white label with brewery logo, distinctive Straffe Hendrik typeface with the highlighted date and then the eye-catching Wild tag around the label base – looks tasty.
I pour the 330ml bottle into a Straffe Hendrik glass – colour wise it's golden, very clear with a nice head and like the label, looks great. It smells fruity to me and I can smell apples and peach – a nice smell indeed.
Once the head dissipates a little I give it a taste…  It's quite a bitter taste actually which turns a little sweeter once it lingers. Perhaps it's the drinking of it on a nice summers day but this really goes down nicely. The finish is dry – I think it's quite refreshing.
To sum up – I like this, I really really like this – everything about it I like – the label, the colour, the aroma the taste.  I'm a little annoyed I only bought 4 as I wouldn't mind putting more of these away for a year to see how it develops with time.
A very very excellent and highly recommended –  9/10
Helen's Review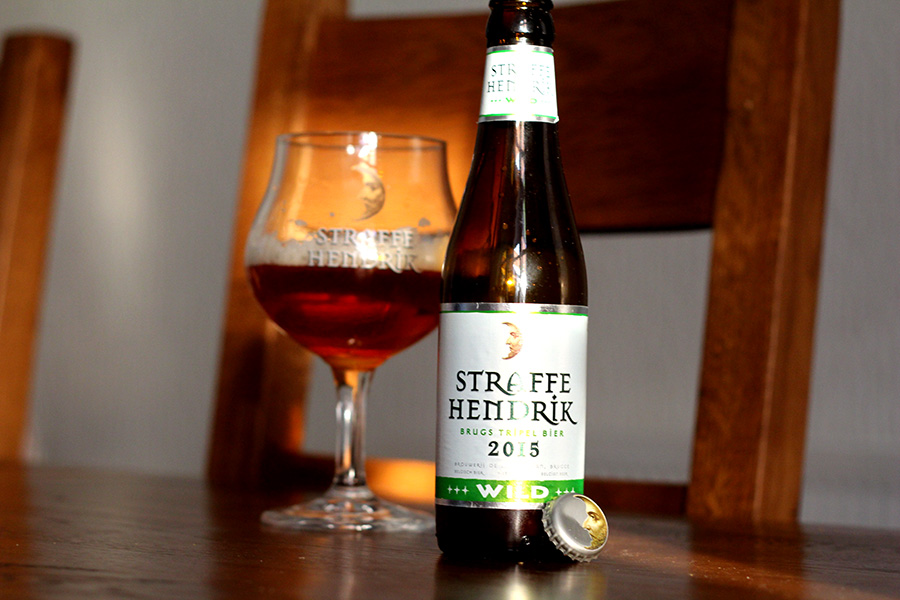 This beer is presented in a brown beer bottle with a white label featuring the Halve Maan brewery logo and cheerful green typography.
When I poured the Straffe Hendrik Tripel Wild the first thing I said is "wow, what a beautiful colour". It's a bright, crisp orangey amber colour with a lovely white head. It's quite cloudy and makes me feel happy.
I'm not one for smelling beers as you might be able to tell from my previous reviews, but this one has a lovely fruity aroma. It makes me want to go and sit outside in the sunshine.
The first mouthful of my beer and I'm struck first by a lot of bubbles, so much that it takes a few seconds to pick up any distinct taste at all. Then bitterness sets in on the tongue. It's not an unpleasant bitterness, but is definitely the main flavour for me. Once that's died down I'm left with a fruity-coffee taste on my tongue. Again it's not unpleasant, but not driving me wild either.
That fruity-coffee flavour lingers in the back of my throat for quite a while. Once it's gone my tongue is left excited and a little fizzy, and I'm left wanting more. It seems to bring quite a lot of saliva to my mouth too. The flavour has definitely made a distinct impression on my tongue.
I like this beer and appreciate the flavour, but I can think of others I'd go for before. I do really like the branding though and find the bottle one of the most attractive I've seen. I much prefer my darker beers.
I'd give this beer a decent 6 out of 10.